Now if you want to know more about the Money Making By Genuine PTCs we will guide you the way and with these easy 10 Tips on how to Get most of the PTC sites, you will know about how to get started and how to Make Money using the PTC's.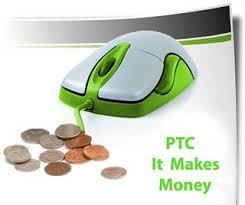 But I again suggest you to be much care full while choosing the right ones. I personally have burnt my hands because of lack of knowledge in it and am not doing PTCs at present. I tried to join many but from my bad past experience I can't do them.
1-    Mostly all the PTC sites are 100% FREE to join. So don't ever indulge in joining the PTC site which charges you money for joining. They are necessarily a scam!
2-    It is seen that spending only 10 minutes a day, with only 5 referrals, you could earn $180/month but with the genuine ones. The more time you spend and the more sites you join, the more you will make; there is literally no limit.
3-    I strongly encourage anyone who signs up to be very careful and not to spend any of their own money until they have come to trust the site on their own terms, as there are some PTC sites that turn out to be a scam.
4-    To get started, you should just pick a few of the sites and sign up. It's really easy. You can start earning in minutes.
5-    When you have got started you should promote the links to gain the referrals without which it is hard to make money.
6-    Also before joining to the PTC sites always look at the past performance of them.
7-    Check out the forums to get the knowledge about their paying. Members who are not getting paid timely are on it and will warn you of the site.
8-    Do the Google search with the name of the PTC site you are joining. It will give you the picture of its genuineness.
9-    Use the more powerful and frequent ways of getting the referrals. You can opt for Traffic Exchanges, Referral Exchanges, Create a Blog (Squidoo is best to create one for free, Advertise your PTC on other PTC site or Purchase referral.
10-    Do not make false claims to get referrals. If you claim that they will make thousands a month, I promise that once they sign up and see 10 $.01 ads, they will do the math themselves. You don't just want sign ups, you want active referrals.
None found.