You probably came across this page by mistake but hop on still: the career of a virtual assistant might be for you. As techie as it sounds, being a virtual assistant does not necessarily mean that you will be helping out a guy decide whether to cut the blue wire or the red wire. What you will do is provide real assistance to real people through the internet, phone, or chat.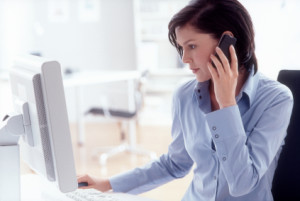 Several years ago, businesses started hiring in-house assistants. But many employers could not keep up with the cost of running a traditional office structure. Rent, taxes, insurance—you name it, they pay for it. Then somebody thought of just hiring people virtually to avoid those costs.
Boom! Virtual assistance is born. Maybe you are interested in joining millions of virtual assistants around the world. What I'll do here is give you some tips on how you can start making money as a virtual assistant.
Know your strengths
Muscle power is great but there are more important strengths that a virtual assistant must have. Below are the skills that you as a virtual assistant will need:
Knowledge of office suites such as Microsoft or Open Office
Ability to use e-mail programs
Skill to communicate effectively any given time
Ability to work with minimum supervision
Ability to read, write, and speak the language of business choice (most often, it is English)
Professionalism (show up, and show up on time)
Those skills, if not presented well in a resume, are not of much use. So you will need a resume that will make employers want to hire you.
Let employers know you exist
Get noticed online, that is the next step towards getting hired. Create professional portfolio in websites like iFreelance, Odesk, or LinkedIn. Make an impressive portfolio and let employers know what they are missing if they do not sign you up. After completing this step, you already prepared to send applications.
Advertise without restraint
After making the resume and portfolio, now comes the part where you increase your chance of being noticed. Link your profile to forums, discussion boards, Craigslist, or similar places. You can also try to get clients through Facebook and Twitter. Later on, you might want to get more exposure by spending a little cash. Consider Google adwords or Facebook Adwords as tools to get your services noticed.
Make your first be your best
Now we turn our attention to the first impression stuff. Seriously, it still works. Make a good impression to your employer so you can expect a great career ahead of you. One epic way of making a bad impression is by presenting skills which you do not really have. Do not say in your resume that you can speak Mandarin fluently if you cannot speak Mandarin at all. Many employers will be willing to hire you for your good English (and other great skills that you have).
This is a guest post by Suzzane Edwards. When she's not writing for Selling Gold for Cash, she could be found blogging about simple tips on how people could take advantage of the internet's numerous business opportunities.