If you are supposed to write a dissertation, don't be overwhelmed or let the task intimidate you. Read on to learn about five easy steps that will help you craft a faultless dissertation.
Take it as your first priority in life
First of all you have to acknowledge that writing a dissertation is a complex and challenging task. You have to make dissertation writing as the top priority of our life until you complete it. Put other parts of your life on hold as long as you are busy writing your dissertation.
Take good care of yourself
Even though dissertation writing is your top priority, it doesn't mean you have to compromise with your well being. On the contrary, you have to sleep and eat well to maintain a sound health and mind. It also reflects upon the quality of the dissertation you will eventually come up with. A sick or sleep-deprived person can never deliver a high quality dissertation.
Be confident
You know that you are an expert so you need to be confident about yourself. You have already done all the hard work of researching or experimenting to gather information. So, there is no reason to be anxious, just assume that you are explaining something you know very well to your friend.
Understand the fundamental structure of your of dissertation
Irrespective of the topic, all dissertations follow a definite structure if they are written on the basis of a first-hand research. The following are the integral parts of a technical dissertation.
Introduction is the very first section in which you have to provide the overview and purpose of your dissertation.
Theoretical backdrop is the second section in which you have to offer an outline of the main research you have carried out on the subject of your dissertation. This is the place to explain your research hypothesis and show how your research relates to the research done by others.
Next comes the research and experiment part in case you have done any. You have to write elaborately and clearly about your research and how you have performed your research.
Then you have to frame a few lines about the result. It is better to include graphics, charts and tables to support your statement.
Now that you have reached the result part you have to show how the result is related with your hypothesis and researches made by other people. You further have to discuss about the consequences of what you have finally found.
Finally the conclusion part comes in which you have to write a brief summary of the entire dissertation.
Write all down following the structure
Now you just have to put all your search findings in words following the structure mentioned below. Research part is the most difficult one not the writing.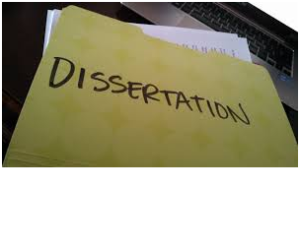 If you still need assistance to edit or revise you dissertation or you want someone experienced to do this you can opt for the service of any online writing service such as customwritingservice.com.
Author Bio
Jason Brown has been involved with an online writing organisation called customwritingservice.com . He regularly frames articles on ways to crafting an impeccable dissertation.