Unstable Days in the Eurozone
The EUR/USD currency pair is moving to and fro through a narrow path of 1.0730 to 1.040 early in Tokyo. The major pair showed an ordinary pull back while trading was on, Tuesday. This was following a dip to a low point of 1.0679.
A stronger recovery in the Euro is supported by an increasing possibility of the ECB raising rates. The currency's bullish traders are eagerly looking forward to the new policy in June.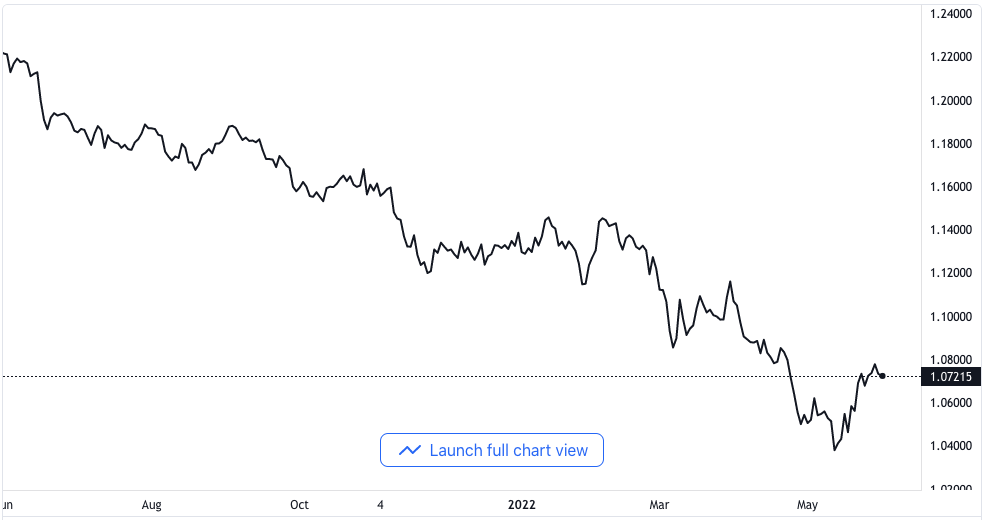 EUR/USD price chart. Source TradingView
Escalating inflation in the European Union is requesting the implementation of quantitative measures. It is going to incorporate a cap on the pressures from inflation. 
Eurostat published the yearly Harmonized Index of Consumer Prices on Tuesday. The data came in at 8.1% against the expected 7.7% and the initial figure of 7.4%. 
A major increase in inflation figures in the Eurozone is forcing an end to the ongoing low rate cycles. Rate increases will consequently be brought out by the ECB at its next policy meetings.
In the meantime, Philip Lane, the ECB's Chief Economist has called for two consecutive rate increases. He said there should be 25 basis points rate increases by the ECB by June and September. This has increased the possibility that the ECB's interest rates will rebound.
As events go by, investors will now look forward to speeches from the President of the ECB, Lagarde. They will equally be expecting the publication of the unemployment figures for the zone.
Investors will also get ready for hawkish statements from Lagarde, given the increasing inflation rates. Whereas, the coming unemployment rate is expected at 6.7% versus the initial 6.8%.
US Commitment to Fight Inflation and Aggression
In the United States, the US Dollar index is witnessing some obstacles close to 101.80. This comes before the publication of the ISM and manufacturing Purchasing Managers' Index. It is seen dropping to 54.5 versus the prior number of 55.4
Among the hawkish speech from Feds and associates that aided the US Dollar came from Secretary Yellen. The US Treasury Secretary said that she had been wrong in the past regarding the path of inflation. She, however, mentioned that President Biden is committed to taming the skyrocketing price of commodities.
Yellen stated further that the President stands behind the Federal Reserve's policies to fight inflation. Bostic, on his path, has said that his initial statement should not be taken as the official position. He had suggested that the Fed takes a pause on its rate increases for September.
President Biden stands with his administration's position to go tougher on Russia. He said if Russia does not pay for its actions in Ukraine, it would encourage future aggressors. They would think they can equally take territories and overthrow governments without consequence.