The Pervading Instability
The GBP/USD currency pair has been unstable for a while. It oscillated in a very narrow strait between 1.2205 and 1.2233 in the early trading session in Asia. This followed a little recovery from a low point of 1.2173 that was printed on Friday.
The currency pair is showing it has a balanced profile in the market. It is speculated to turn into an imbalance as the CPI is expected to turn in higher figures. The UK's economy will increase the already strong fears around a recession.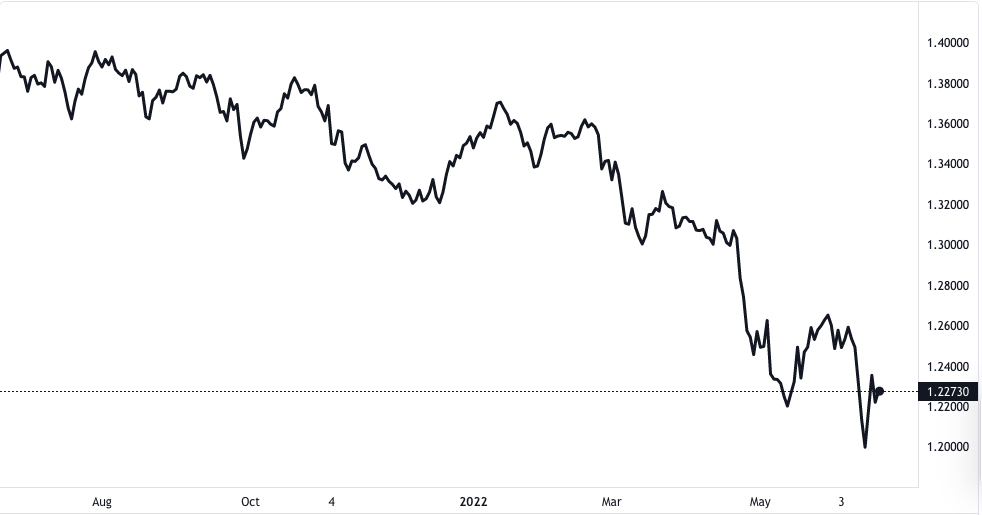 GBP/USD price chart. Source TradingView
It will consequently have a weakening effect on the cable pair more than before. According to the market's speculations, the UK's inflation will land at 9.1%. Just a tad higher than the initial print of 9%.
The Pros and Cons of Staying Put
Having an inflation number maintained at 9% or above is an alert to a recession. The result will be an extremely hawkish Bank of England when it comes to its monetary policy in July. Note that the Bank of England increased rates again last week by 25 basis points.
The latest Bank of England interest rate increase has got its rates officially to 1.25%. In the meantime, the platform of over 50 top executives from business, finance, and policy on Financial Times has released a statement. It said policymakers are having a difficult time on how to manage the effects of economic slides.
It is said that if the UK avoids a technical recession, the possibility of stagnation can't be overlooked. Such might increase the volatility around the pair in days to come.
In the US, on the other hand, the Dollar index is showing a slow market performance. The Dollar index is moving between 104.70 and 104.80. It is also speculated to move into the hands of bears since it slid from the important support line of 104.60.
The focus of investors this week will be dominantly on figures from the US PMI. The composite PM Index is regarded as higher and marginally to about 53.5 from the previous figure of 53.4.  
The 100-period moving average of 1.2165 might be able to challenge bears of the GBP/USD pair. It will be a significant move before it directs them to the monthly low point of 1.1933. It should be noted that the 1.200 psychological level could be an important support for the short term.
Given the constant condition around the relative strength index, the quote might be gunning for a resistance line close to 1.2265. Nevertheless, more increase needs to be validated from the 200-period moving average of 1.2300.
If the GBP/USD pair price goes beyond the 1.2406 obstacles, it has 1.2665 to contend with. Generally, the pair's price is bearish but a correction for the short-term is not impossible.