The GBP/USD currency pair is oscillating near its one-month height while bulls and bears struggle ahead of the coming US reports. The mixed signals that popped up on Friday during the Asian session are another reason for traders' hassle.
USD Weakness and the UK's Politics
The pair increased in the course of the last two days on the back of the Dollars' general weakness. It should be noted that political drama in the UK, as well as Brexit negotiations, might be weighing on the GBP/USD pair. The consolidation of the US Dollar in anticipation of the US inflation report is also exerting its weight.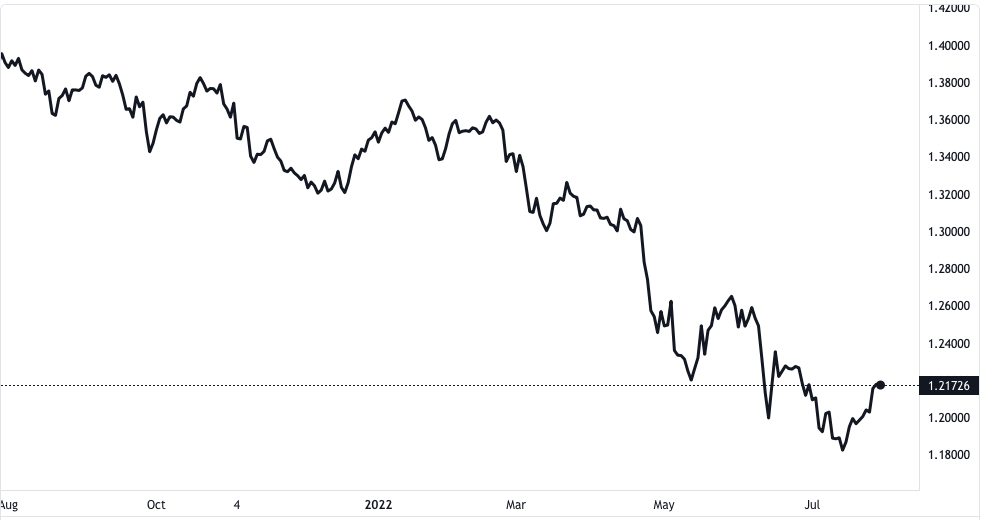 GBP/USD price chart. Source TradingView
The market expects that the Federal Reserve will no longer come up with another interest rate increment. That, and the GDP release of the US for the second quarter seems to favor the weakness of the US Dollar. The central bank's talks of neutral rates and Powell's recovery plan have the same effect.
Note that the flash reading from the quarter 2 GDP printed an annual figure of -0.9%. This comes against the expected 0.5% figure and -1.6% which it printed last. The second negative print in a row has put the US firmly in a technical recession.
The current situation probes the hawkish policy of the Federal Reserve and puts pressure on the US Dollar. Nevertheless, the inflation expectation report according to the ten-year breakeven inflation refreshed its monthly high. It now sits at 2.48% and brought back fears of more Fed interest rates.
Any more Fed rate increases will exert pressure on the GBP/USD pair. 
Who is the Next PM?
In the UK, Rishi Sunak lost the support of policymakers as they accuse him of stabbing Johnson. Liz Truss, on the other hand, got uncomfortable questions about the monarchy pointed at her.
A British Chamber of Commerce survey showed that a quarter of exporters suffered an export fall. While some 46% said they experienced no change, according to The Guardian. 
The Wall Street benchmark had positive closures despite all of the obstacles. The Treasury yields, however, saw a slide. The Dollar index renewed its low as it extended the losses incurred after the Fed announcement.
The personal consumption price index will be an important report to watch out for. It is expected to come in at 0.5% month-on-month in July against 0.3% for June.
A decisive break of the one-month and a half declining trend line is in favor of the GBP/USD pair buyers. It will aid their aim for the 50 daily moving average hurdles around 1.2225.