TradeSmart Academy Review

Education has become essential in our day-to-day dealings, and people appear fascinated with avenues that allow them to learn lucrative skills. Knowledge is essential for success in any undertaking, and the same holds for the online trading space. You will only enjoy returns in this space with appropriate skills and know-how. Meanwhile, platforms such as TradeSmart Academy are here to fill that void.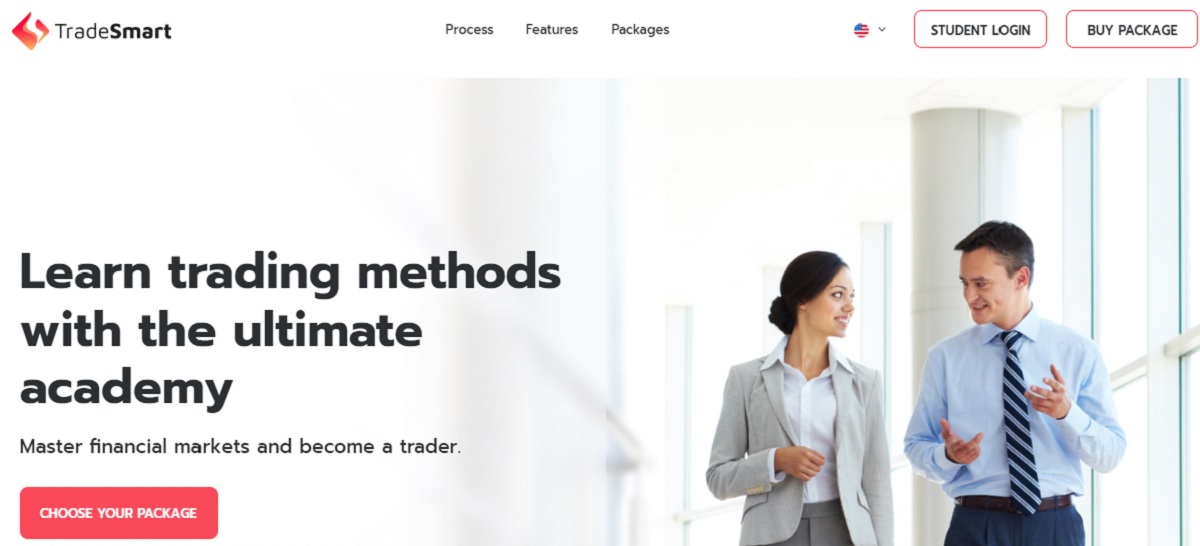 These online firms educate online investors on strategies that could yield impressive profits. One thing that makes TradeSmart Academy the best of the many options is its easy-to-follow and well-structured educational program. The academy makes it smooth to grasp the technical terminologies that various brokers use. That means clarity when following crypto chats. For instance, you will learn details about bearish and bullish markets.
TradeSmart Academy's Packages
TradeSmart Academy has various packages designed to cater to the different needs of modern investors. You can choose from four options – Beginner, Intermediate, Trader, and Elite. You will need varying amounts to access every package. Prices increase as you climb from the Beginner account. The packages go for $259, $525, $1,049, and $1,579.
Moreover, you will access advanced educational materials, information, and features as you upgrade. You might enjoy multiple instructional materials with any of TradeSmart Academy's packages, including e-books, lesson plans, assignments, video tutorials, market reviews, cryptocurrency calendars, and more. You can purchase your desired package seamlessly without challenges. You only have to find the option that matches you and tap 'Buy Package.'
Refund Policy
TradeSmart Academy states that they do not refund membership fees except during the initial three months since the Membership Period began, and the student hasn't viewed over half of the available lessons in the three courses – Trading Essentials, Technical Trading & Strategic Trading. Meanwhile, you may request refunds through their email contact@tradesmark.academy explaining the wish to get the refund and your name.
The academy will reimburse using the payment option you used to complete the first transactions. Remember, you will immediately lose access to the platform once TradeSmart Academy receives your termination request.

TradeSmart Academy's Courses
Trading Essentials
Here, you will understand the basics of the financial space and how you may hedge your trading bets with TradeSmart Academy's help. Moreover, you will learn the multiple tradeable products you can interact with during your trading game. Naturally, you will make mistakes as a fresher in the space. Nonetheless, TradeSmart Academy's techniques will help you to avoid making similar mistakes. That's what you get when learning from individuals who have been trading for years.
Technical Trading
TradeSmart Academy's technical trading course will equip you with the skills essential to assess price fluctuations accurately. Their experts will advise you about basic market evaluation, including which tools to use when researching. Further, you will access several advanced functionalities as part of your selected course.
Strategic Trading
TradeSmart Academy houses some of the most knowledgeable market participants in the industry. These individuals are ready to share what they know about the markets. Furthermore, you will learn how to utilize investment techniques that have yielded substantial returns to other enthusiasts. For example, TradeSmart Academy will teach you to employ tools such as Japanese candle patterns, Elliott's wave theory, and Fibonacci.
TradeSmart Academy's Customer Support
TradeSmart Academy has dedicated customer support that you can reach out to at any time. Their round-the-clock client service makes it a reputable academy. In addition, their staff will always be there to assist, guaranteeing solutions to your every concern. You can contact TradeSmart Academy via call or email. Also, you can explain your issue through the available online form.
Final Thought
TradeSmart Academy is the solution for anyone that wants to increase his trading skills for improved earnings. You can learn from the firm's experts with robust financial and trading experience. Though not the only option, TradeSmart Academy knows what you need to succeed in your online investment career.