The recent global economic downturn has left investors and companies alike looking for safe places to put their money.  As the world economy continues to struggle along, Singapore has managed to enact a series of progress acts that has kept it productive and growing despite a shrinking world economy.  A dynamic and exciting place to invest; let's discuss why Singapore should be your top choice and how their approach towards business and investment makes them the superior choice.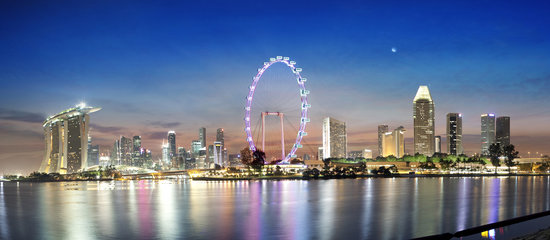 Singapore Has Strong Fundamentals
Encompassing an area of only 719 km2 Singapore has a population of estimated at 5.5 million people in 2015.  While small, the country is densely populated, being primarily the single city of Singapore.  Tiny in size compared to economic rivals, Singapore has none-the-less managed to be a leading world player, beating out nations with millions of more people and kilometers of space.  This is accomplished in part through their 4 strong fundamentals; trust, life, knowledge, connected.
Trust speaks towards the interaction between the government and private enterprise along with its residents.  Life concerns creating a place where individuals can enjoy their time from work as well as find creative past times that speak towards their interests.  Knowledge speaks towards the building of a strong academic core that continues Singapore's fine tradition of training many leading business individuals as well as those throughout the STEM field.  Finally, connected speaks how Singapore has utilized technology to facilitate easier communication not only through the city, but to the rest of the world as well.
Singapore Is A Growing Place for Business
Singapore is a global city that is no stranger to foreign investment.  In fact, it has acted as the primary means of facilitating trade between Western markets and Eastern markets.  Staying on top of any economic turn, the progress and action-oriented nature of Singapore has seen it rise as one of the leading financial capitals of the world.  Securing the 3rd place spot over Hong Kong in March 2016, Singapore ranked just below London and New York City in the latest Global Financial Centre Index.
A Unique Investment Opportunity
Singapore has a strong history of being pro business.  Since it's inception as an independent and free country, Singapore has created an able workforce that has managed to be cooperative, streamlined, and efficient.  Being a city of immigrants from around the world, an able workforce makes it the perfect place to find talent, establish a business, or invest.
Easy To Access
Singapore is easy to access and flights go to Singapore from all around the world.  Getting to and from Singapore, as well as getting around Singapore, is not a challenge.
Incredible Range Of Industries
If nothing else, consider the incredible range of industries that Singapore caters to.  Representing an incredible selection of investment opportunities, it is hard to find a single place that has more opportunity or potential for investment.  Industries include Aerospace Engineering, Infrastructure, Industrial Solutions, Chemicals, Consumer Business, Clean Energy, Electronics, Environment, Energy, Non-Profit organizations, Infocomm, Media, Medical, Marine, Offshore Engineering, Healthcare, Pharmaceuticals, Engineering, and more.
About the author
Nick James writes for Company Stamp Singapore Pte Ltd, where he wrote most of the website content. He wrote the article "Eco Friendly Rubber Stamps" and "How to make your Company Stamps look impressive".